Easily manage your finances and facilitate your business with ArtBinder Financials. Automatically calculate profit from available or sold inventory, while managing associated Costs and Payables. Seamlessly convert currencies. Track Insurance and Appraisal values associated with every object.
You can find the Financials calculator under each Object details page.
Go to Objects from the top navigation bar
Select an object
On the left side menu you will see a label for Financials
Click in, fill in the form and Save!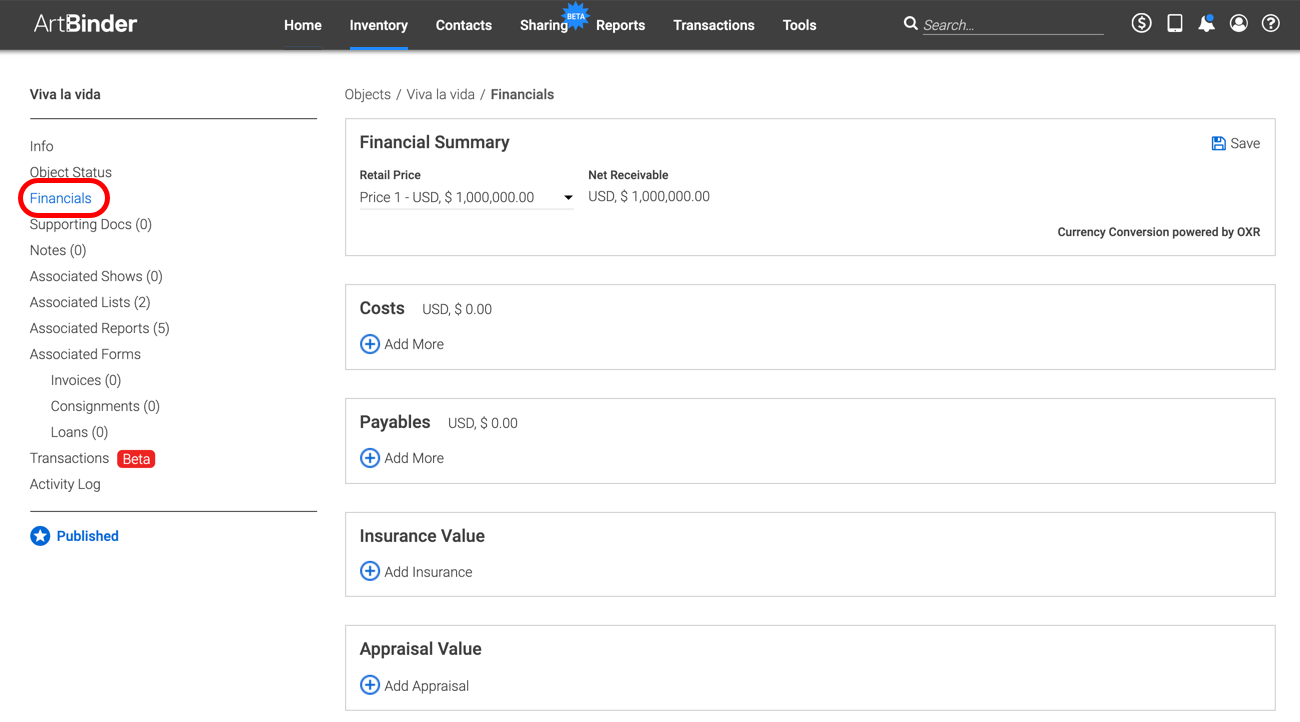 Retail Price
This value automatically pulls from price assigned in the Object>Info page. It will default to Price 1, but you can quickly switch between associated Price 2 or Price 3.
Net Receivable
The Net Receivable value under Financials Summary will reflect your business's calculated profit, by subtracting associated Costs and Payables from the Retail Price. ArtBinder will default to the currency of the retail price for the net receivable.
Think of it as Net Receivable = Retail Price - Costs & Payables.
Cost and Payables
You can enter one or more Cost and Payable value. Costs might be framing or conservation costs attributed to an object. Payables might be commission credited to the artist or maker of an object. Include a currency value, type, source, date, notes and associated pdf documentation. You may choose to include or exclude cost and payables from the total net receivable. You may list your costs and payables in any desired currency, and there can be any number of different currencies in a single calculation, according to your needs (e.g., one cost in Euros, a second in British Pounds, one payable in USD etc.).


Insurance Value and Appraisal Value
Wrap up your financial summary by logging your Insurance Value and Appraisal Value. Enter a currency value, date, source and notes. Have relevant pdf document? Attach that here so nothing gets lost. The most recent insurance and appraisal value will appear in the top bar along with the retail price and net receivable. Again, you may list these values in any desired currency.



Did you noticed our built-in currency converter? ArtBinder teamed up with OXR, an open exchange rate service, so the currency rate shown throughout the site will always be current according to the date you assign a given cost or payable! Even if you backdate a cost, ArtBinder will use the currency value from that historical date. ArtBinder will also convert all cost and payable currencies to the currency of the retail value to ensure accurate and consistent net receivable values.